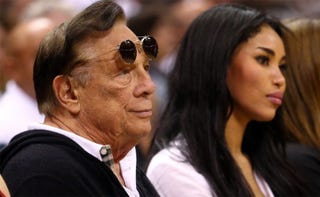 BEVERLY HILLS – Sources reported today that Donald Sterling, embattled owner of the Los Angeles Clippers basketball team, is currently mourning the death of his longtime pet Dingo, a male Bombay cat, who passed away peacefully last night at the age of twenty.
"Oh… Dingo! My sweet, sweet-hearted kitty," cried the eighty-year-old native of Chicago, alone in his vast estate, cradling the lifeless cat's body. "It wasn't your time yet!"
Sterling, a former personal injury attorney who subsequently made his fortune in real estate development, purchased the struggling San Diego Clippers franchise in 1969 for $12.5 million and later moved the team to Los Angeles following over a decade of consecutive losing seasons under his ownership.
"Whyyyyy, God, whyyyyy?" wailed Sterling, prostrating himself on his marble floor, his body heaving uncontrollably with sobs aside the empty bed of his departed feline companion.
In both 2003 and 2006, Sterling defended private and government-initiated housing discrimination lawsuits, through which racist statements made by him to employees about Black, Hispanic, and Asian tenants were disclosed. Later, in 2009, an employment discrimination lawsuit was filed by NBA hall of famer Elgin Baylor, who had worked for the team twenty-two years, in which he alleged that Sterling had a "vision of a Southern plantation-like structure" for the team.
"How could you leave me, Dingo! What will I do without you?" choked the man who, in 2003, sued his former mistress after their relationship ended over the $1 million dollar Beverly Hills home he had purchased for her.
"My Dingo, you were always too good for this cold, jaded world!"
On April 25, 2014, celebrity news website TMZ released an audio recording of a courtside conversation between Sterling and Vanessa Stiviano, his mistress, in which Sterling can be heard saying, "You can sleep with [black people]. You can bring them in, you can do whatever you want, but the little I ask you is... not to bring them to my games."
The conversation was prompted by a photograph on Instagram of Stiviano with NBA hall of famer Magic Johnson. Sterling was publicly condemned for the comments – most notably by the Clippers players and coach Doc Rivers – and, on April 29, was subsequently banned from all NBA activities and facilities, fined $2.5 million (the maximum allowable under the organization's rules), and is being forced to sell his team.
"Boo-hoo hoo hoo hoo, oh, oh – why Dingo – ohhhh, boo-hoo hoo Dingo – no! Dingo, boo hoo hoo boo hoo hoo, don't leave me" whimpered Sterling, feeling barely able to contemplate how to continue on with life without his sweet kitty – his one and only true, constant friend.
In response to the threatened forced sale, Rochelle Sterling (his wife of fifty-five years) sought to retain control of the team; however, the NBA has rejected her attempt and demanded that the Sterlings sell all ownership interest in the Clippers. On May 24, Sterling reportedly authorized his wife to negotiate the sale of the team.
"Donny's cat died last night?" piqued Rochelle Sterling, hearing the news via Mr. Sterling's blubbered message on her voicemail.
"Well, that was the last black pussy he's ever gonna see," she said, smiling to herself.
---
@TheMushroomNews + themushroomnews@gmail