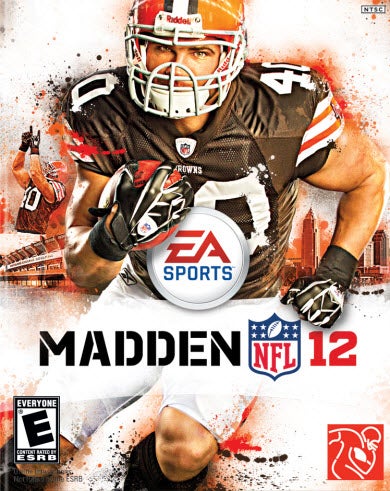 SACRAMENTO – Citing a desperate lack of things to talk about with his co-workers in the break room, local man Martin Wu downloaded a copy of Madden 2012 from Xbox Live earlier today.
It was the latest step in the electrical engineer's ongoing effort to understand and discuss the most popular sport in the United States with the few people with whom he interacts in his small workplace.
"As soon as football season rolls around, it's all that Brad and Dave and the other guys in the office talk about come Monday morning," said Wu, confirming his purchase of an older and therefore less expensive version of the popular NFL game franchise.
Over the past several weeks, Wu had attempted weakly to watch several real football games and found himself losing interest long before the games ever ended.
"The great thing about football is that strategy is actually very important," said the 34-year-old who had no meaningful experience playing any competitive sports outside of his grade school and high school P.E. classes. "It's not all about who's the biggest and fastest or whatever. But the coaches – the offense and defense coordinators, the quarterback – these guys are really running the show."
"And, with my mind for planning and strategy, I think I could have a knack for coaching," said Wu as he scrolled through the list of teams, many of which he had not known even existed, and finally settled on the Dallas Cowboys.
In immediate preparation, Wu skimmed several articles on Wikipedia about offensive and defensive formations and some of football history's greatest teams like Don Shula's 1972 Miami Dolphins and the smashmouth style of Lombardi's 1962 Green Bay Packers.
"Those guys had great coaches," said Wu, imagining the unlocking of his incredible latent potential as a playcaller and the inevitable place he would take in the pantheon of football's great minds.
Upon winning the coin toss, Wu opted to receive against the New England Patriots, aiming to jump out to an early lead and then relying on his secondary to smother future Hall of Fame QB Tom Brady's receiving corps.
"All right, let's play some Madden… Huh, we're just getting right into it, aren't we? What about – uh, the tutorial part in the beginning? Like where they show you the buttons and…?
Given control of the ball for the first time and being immediately overwhelmed by the sheer number of options, Wu ambivalently and unwittingly selected the same play-action pass play twice in a row, the first of which was batted away incomplete and the second which ended abruptly in a quarterback sack.
"You always gotta keep the defense guessing. See, if you're too predictable…" said Wu, carefully choosing a Reverse running play on 3rd and 15 for an immediate and substantial loss of yards. "Well, that was just a mistake. I didn't mean to do that."
"I think maybe the Cowboys aren't the right team for me. I bet I'll have better luck with the New York Jets," said Wu, totally seriously and without even a hint of irony.
As of presstime and after failing to convert even a single first down, Wu remembered that it had been a while since he'd watched the first season of Doctor Who and that he would just take a quick break, watch a few episodes, and then get right back to mastering "the beautiful game."