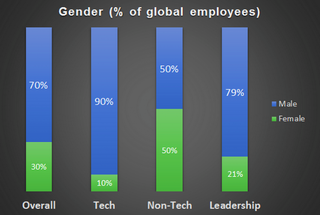 SAN FRANCISCO – According to internal sources, recently hired software engineer Maribel Ramirez is significantly exceeding the expectations of her colleagues and managers at Twitter, reportedly doing a much better job than anyone really expected when she was hired.
"When she first showed up, I was like, aw fuck, but I get it – diversity is important," said iOS software engineer Dan Chen, a project teammate of Ramirez. "I totally understand. But after she actually got going, we were like, holy shit. Does she actually know what she's doing?"
In response to public pressure, the multi-billion dollar social networking and microblogging company recently released demographic data on its 2,000+ global workforce, showing that 9 out of every 10 of its employees in tech positions are men and nearly 90% of total workers are white or Asian.
Ramirez, a native of San Jose, joined Twitter in July after graduating this year from UC Berkeley with a degree in Electrical Engineering and Computer Science and a strong background in Ruby and Objective-C. Several weeks after being hired, word of Ramirez's ability spread quickly throughout the company's downtown San Francisco office, sparking general curiosity.
"She's Hispanic, right? Anyone know where she's from? asked engineering manager Darren Holtz. "She's kinda cute – just saying – with like a pretty face and so-so body. And she has a good personality too, like funny but not dramatic, you know?"
"Is her dad someone important or something?"
Reacting to criticism about its lack of gender and ethnic diversity, the company has said it is committed to "building a Twitter we can be proud of" by publicly acknowledging the benefits of having a diverse workforce, committing to recruit from historically black colleges and universities, and promoting the activities of its "Women in Engineering" group.
"It's like she's a totally normal person around here, not some diversity hire," marveled Holtz. "She writes decent code, gets her shit done, and doesn't cause any drama."
"It's kind of weird."
(Image Source: Twitter)
---
@TheMushroomNews + themushroomnews@gmail